 Improving and protecting the public health
by strengthening education and training
of public health professionals
for both practice and research


LOGIN | ASPHER COMMUNITY
ASPHER is the key independent European organisation dedicated to strengthening the role of public health by improving education and training of public health professionals for both practice and research.
Secretariat updates
The New Public Health - Fourth Edition
16 May 2023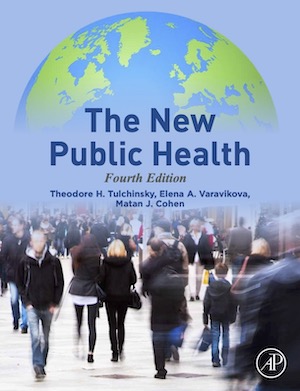 The New Public Health — Fourth Edition
The fourth edition of the textbook 'The New Public Health' from respected authors Theodore H. Tulchinsky, Elena A. Varavikova, and Matan J. Cohen has been published.
The New Public Health has established itself as a solid textbook throughout the world. Translated into 7 languages, this work distinguishes itself from other public health textbooks, which are either highly locally oriented or, if international, lack the specificity of local issues relevant to students' understanding of applied public health in their own setting.
Fully revised, the fourth edition of The New Public Health, Fourth Edition provides a unified approach to public health appropriate for graduate students and advanced undergraduate students especially for courses in MPH, community health, preventive medicine, community health education programs, community health nursing programs. It is also a valuable resource for health professionals requiring an overview of public health.
Download the book flyer for more details.
Click here to purchase a copy of the print or e-book.
Use discount code BIOMED30 for 30% off and free shipping.
Preface to the New Public Health, Fourth Edition, 2023 - trial by fire and moving forward
This fourth edition of The New Public Health was prepared during the COVID-19 pandemic, truly a "trial by fire" for population health around the globe, challenging the world, all national governments, and health systems, including public health, hospitals, primary care, political leadership, the media, economies, and the general public. At this time (April 2022), the pandemic may be fading away or just simmering and about to burst out with new variants and linger for another year or more. Certainly, lessons must be learned at global, national, and local levels of government, as health system managers, staff, and certainly funders, because more disastrous pandemics or other natural or manmade events can occur and severely damage public health.
The larger picture is that great progress has been made in population health in the 20th century and can continue in the 21st century to improve population health even against many known and new challenges. The networks of joint efforts have led to reductions in the risk factors for noncommunicable diseases along with the continuing expansion of the ca- pacity to reduce cancer-causing microbiologic agents and screening for treatable-stage cancers. Successful vaccine methods for the COVID-19 virus have opened new vistas in vaccinology that should enhance improvements in public health in coming decades.
The modern world is undergoing a profound transformation, making it especially important for us to recall that turbulent times in history have always been accompanied by breakthroughs in public health in response to emerging challenges. We hope this textbook will help introduce and assist in the continuity of knowledge and experience for new specialists.
The New Public Health is resilient, with great challenges and achievements, as indicated in examples given by Peter Hotez in his foreword to this fourth edition. The eradication of smallpox was the moon landing achievement of public health, as reductions in mortality from cardiovascular diseases is a civilizational achievement comparable to even the spectacular successes of space exploration.
The term New Public Health implies resiliency, adaptation, networking and progress. We hope this edition of the New Public Health will elicit optimism and challenges for new young entrants to the work of saving lives, reducing inequities, and raising public awareness of the security and well-being of people everywhere across the globe.
Theodore (Ted) Tulchinsky Elena Varavikova Matan Cohen
Foreword by Dr Peter J. Hotez
The 8-year period between the release of the third edition of The New Public Health in 2014 and this fourth edition has significantly affected our common understanding and framework of modern health systems. This has been espe- cially true regarding the abrupt and wrenching changes from catastrophic infectious diseases.
It began with Ebola virus infection in West Africa, when a vast and deadly epidemic began in Guinea, initially in a small boy living in a small village, before reaching Conakry, the Guinea capital. By the time the World Health Organization declared a public health emergency of international concern in August 2014, the epidemic had spread to Liberia and Sierra Leone. The realization was that unless the international community could mobilize and launch an unprecedented response, the epidemic would spread to the large population centers of Nigeria and destabilize the African continent. In the meantime, cases occurred in the United Kingdom, Spain, and Dallas, Texas, in the United States. Ultimately, the required global response included military deployments from the United States, Israel, and many European nations, together with action from the United Nations Security Councildbut not before 11,000 people lost their lives.
These elements raised awareness that the impact of epidemics goes beyond biomedicine. The Ebola epidemic of 2014-2016 in West African countries reflected the consequences of health system collapses due to years of extreme poverty and civil war. Further analysis revealed how the Ebola virus first reached human populations due to deforestation linked to climate change. In turn, the Ebola virus infection caused the collapse of West African economies and threatened global security.
Therefore, a key lesson is how our New Public Health must encompass modern 21st-century forces related to war, political instability, poverty, and other powerful social determinants, as well as wrenching climate shifts that include altered rainfall patterns and warming temperatures, desertification, and rising sea levels. Similar forces were also responsible for the recent return of epidemic illness on the Arabian Peninsula due to the ISIS occupation and wars in Yemen, in Venezuela during the regimes of Chavez and Maduro, and in northern Nigeria from the Boko Haram occupation.
Still another aspect of this new public health relates to vaccines. Historically, vaccines and vaccinations allowed hu- mankind to wipe out smallpox and polio and to close in on eliminating measles, meningitis, and other ancient scourges. In response to the 2014 Ebola epidemic, the US government during the Obama administration put up funds to incentivize the pharmaceutical industry to develop and produce a vaccine. Early studies conducted in 2015 revealed that ERVEBO, developed over 4 years in a federal P4 laboratory in Winnipeg, Canada, a live recombinant vesicular-stomatitis-virus vaccine expressing Ebola antigen, showed promise. During a second large epidemic in the Democratic Republic of the Congo (DRC), the vaccine was deployed and administered to over 200,000 individuals. The ERVEBO vaccine was a
resounding success, showing over 90% effectiveness. Another extraordinary aspect was how the vaccine underwent clinical trials and was delivered under almost impossible circumstances of remoteness and ongoing hostilities. The ERVEBO vaccine prevented the DRC epidemic from spreading across Central Africa and likely destabilizing the entire region.
Ebola demonstrated both the strengths and weaknesses of our global vaccine infrastructure. On the positive side was the proof of concept that it was possible to develop and deploy a new vaccine for an imminent global health threat even in the middle of a raging epidemic. On the negative side was that as international attention focused on Ebola virus infection, measles erupted in the DRC and wound up killing more Congolese than Ebola. The global vaccine ecosystem is a fragile one. Along those lines, measles reemerged in multiple countries due to interruptions in vaccination programs resulting from political instability or conflict. Still another driver was a rising antivaccine movement that caused measles to return to Europe, the United States, and worldwide. Operating primarily through the internet and social media, antivaccine activities now threaten to reverse 2 decades of steady successes under the auspices of the UN-sponsored Millennium Development Goals.
All these events culminated in the global coronavirus disease 2019 (COVID-19) pandemic. The COVID-19 pandemic of 2019-2023 or longer, shows the interface between virology, vaccinology, and epidemiology, with societal inequity factors and the urgencies of political awareness and national security. Beginning in Wuhan City, Hubei Province, China, under unclear circumstances, the virus spread quickly into Southern Europe and then to the United States and Brazil. In 2020, COVID-19 became the leading infectious disease killer globally, while in some countries, such as the United States, COVID-19 led all causes of death daily for much of 2020. Like Ebola, COVID-19 revealed the best and worst of global public health. A multinational response was launched to promote the development of new vaccines, including some with cutting-edge mRNA technologies, advancing the field of vaccinology. Conversely, COVID-19 spread aggressively in countries led by populist regimes whose leaders attempted to dismiss its severity or even encouraged outright defiance of nonpharmaceutical interventions like wearing face masks, frequent hand-washing, and social distancing. In parallel, there were breakdowns in the global governance of vaccines despite the best efforts of UN agencies and the Coalition of Epidemic Preparedness Innovation to establish mechanisms for equitable vaccine access. A new term, "vaccinationalism," was coined to reflect bilateral agreements led by Russia or China to sell or distribute COVID-19 vaccines directly to resource-poor countries as the United States attempted to declare eminent domain over the vaccines produced by multi- nationals. Not since HIV/AIDS first emerged in the 1980s was an illness so directly tied to political agendas.
This latest and fourth edition of The New Public Health textbook provides the fundamentals and foundations comprising the core elements required for public health systems to be strengthened and ready for long-term development, as well as for crises, such as the coronavirus pandemics of recent decades. I congratulate Professors Tulchinsky, Varavikova, and Cohen for preserving this critically important canon and their adaptability and willingness to explain the profound shifts in public health arising since the third edition over these last few years.
Peter J. Hotez, MD, PhD, DSc (hon), FASTMH, FAAP

»
Back to Secretariat updates
ADDRESS
Aspher Secretariat
UM Brussels Campus
Av de l'Armée / Legerlaan 10
BE-1040 Brussels