 Dedicated to strengthening the role of public health
by improving education and training
of public health professionals
for both practice and research
LOGIN | ASPHER COMMUNITY
ASPHER is the key independent European organisation dedicated to strengthening the role of public health by improving education and training of public health professionals for both practice and research.
Home
» ABOUT ASPHER » ANDRIJA ┼áTAMPAR MEDAL
ANDRIJA ŠTAMPAR MEDAL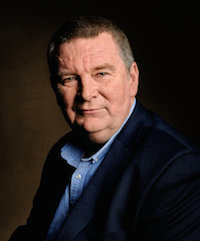 The Andrija Štampar medallist of 2021 has been chosen! Thank you very much to all ASPHER members for submitting your nominations. After a thorough discussion, the ASPHER Executive Board has decided to award this year's medal to Michael Ryan in recognition of the outstanding accomplishments during his career.
On Tuesday 22 March 2022 at 16:00 ASPHER celebrated the 2021 Andrija Štampar Medal for Dr. Michael Ryan, Executive Director, WHO Health Emergencies Programme.
WATCH THE RECORDED CEREMONY HERE
Dr Mike Ryan has been at the forefront of managing acute risks to global health for nearly 25 years. He served as Assistant Director-General for Emergency Preparedness and Response in WHO's Health Emergencies Programme from 2017 to 2019.
Dr Ryan first joined WHO in 1996, with the newly established unit to respond to emerging and epidemic disease threats. He has worked in conflict affected countries and led many responses to high impact epidemics. He is a founding member of the Global Outbreak Alert and Response Network (GOARN), which has aided the response to hundreds of disease outbreaks around the world. He served as Coordinator of Epidemic Response (2000-2003), Operational Coordinator of WHO's response to the SARS outbreak (2003), and as WHO's Director of Global Alert and Response (2005-2011),
He was a Senior Advisor on Polio Eradication for the Global Polio Eradication Initiative from 2013 to 2017, deploying to countries in the Middle East.
He completed medical training at the National University of Ireland, Galway, a Master's in Public Health at University College Dublin, and specialist training in communicable disease control at the Health Protection Agency in London and the European Programme for Intervention Epidemiology Training.
About the Andrija Štampar Medal
Each year ASPHER awards the prestigious Andrija Štampar Medal to a distinguished person for excellence in the field of Public Health.
Doctor Andrija Štampar was born in the Croatian countryside 100 years ago. His parents were schoolteachers and moved around the country a lot. This gave him many opportunities to observe the daily life of the people. He qualified in medicine in Graz during the period of the Habsburg Empire. There was no medical school in Croatia at that time. In the 1920s he worked in a senior position in the newly created Ministry of Health in Belgrade. Apparently at this time he was very outspoken about what needed to be done.
In the period 1927-28, he founded the School of Public Health in Zagreb, with a grant from the Rockefeller Foundation. From this base, he began to develop the public health system for the whole of Yugoslavia. As a result of these successful activities he was invited by the King to take up the cabinet post of Minister of the Interior. He accepted subject to certain conditions, which the King did not accept. Subsequently he went to China as an official of the League of Nations, and set up a fledgling public health system under its auspices.
He spent the period of the Second World War in prison, but in 1945 was appointed as Professor of Social Medicine in Zagreb. He also served as Dean of the Medical School and as President of the Academy of Arts and Sciences of Croatia. In 1946 he was president of the Interim Committee of WHO, charged with setting up its structures and constitution. It also drew up the famous definition of health. Professor Štampar was chairman of the first WHO General Assembly in 1948.
The Štampar Medalists since 1993:
Selma Šogoric | 16th World Congress on Public Health - Online 2020
Štampar Medalist 2020 | Short biographical sketch
Laudation by John Middleton (President, ASPHER)
Gaetano M. Fara | XLI Annual Conference / 12th EPH Conference - Marseille 2019
Štampar Medalist 2019 | Short biographical sketch
Laudation by John Middleton (President, ASPHER)

Anne Johnson | XL Annual Conference / 11th EPH Conference - Ljubljana 2018
Štampar Medalist 2018 | Short biographical sketch
Laudation by Kasia Czabanowska (Maastricht University)

Elina Hemminki | XXXIX Annual Conference / 10th EPH Conference - Stockholm 2017
Štampar Medalist 2017 | Short biographical sketch
Laudation by Henrique Barros (University of Porto)
Richard Horton | XXXVIII Annual Conference / 9th EPH Conference - Vienna 2016
Štampar Medalist 2016 | Short biographical sketch
Laudation by Martin McKee (London School of Hygiene and Tropical Medicine)
Jean Rochon | XXXVII Annual Conference / 8th EPH Conference - Milan 2015
Štampar Medalist 2015 | Short biographical sketch
Laudatio by Laurent Chambaud (EHESP School of PublicHealth - Rennes)
Peter Piot | XXXVI Annual Conference / 7th EPH Conference - Glasgow 2014
Štampar Medalist 2014 | Short biographical sketch
Laudatio by Yehuda Neumark (Hebrew University of Jerusalem)
Jose M Martin-Moreno | XXXV Annual Conference / 6th EPH Conference - Brussels 2013
Štampar Medalist 2013 | Short biographical sketch
Laudatio by Miguel Angel Royo (Institute of Health Carlos III - Madrid) & Ted Tulchinsky (Hebrew University of Jerusalem)
Julio Frenk | XXXIV Annual Conference / 5th EPH Conference - Malta 2012
Štampar Medalist 2012 | Short biographical sketch
Laudatio by Jeffrey Levett (National School of Public Health - Athens)
Zsuzsanna Jakab | XXXIII Annual Conference / 4th EPH Conference - Copenhagen 2011
Štampar Medalist 2011 | Short biographical sketch
Laudatio by Roza Adany (University of Debrecen)
Elias Mossialos | XXXII Annual Conference / 3rd EPH Conference - Amsterdam 2010
Štampar Medalist 2010 | Short biographical sketch
Laudatio by Helmut Brand (Maastricht University)
Gudjon Magnusson | XXXI Annual Conference / 2nd EPH Conference - Lodz 2009
Štampar Medalist 2009 | Short biographical sketch
Laudatio by Stojgniew Jacek Sitko (Jagiellonian University - Krakow)
Ulrich Laaser & Theodore Tulchinsky | XXX Annual Conference / 1st EPH Conference - Lisbon 2008
Štampar Medalists 2008 | Short biographical sketch
Laudatio by Anders Foldspang (Aarhus University)
David Byrne | XXIX Annual Conference - Valencia 2007
Štampar Medalist 2007 | Short biographical sketch
Laudatio by Jose M Martin-Moreno (EVES School of Publi Health - Valencia)
Josep Figueras | XXVIII Annual Conference - Maastricht 2006
Štampar Medalist 2006 | Short biographical sketch
Laudatio by Charles Normand (Lodnon School of Hygiene and Tropical Medicine)
George Soros | XXVII Annual Conference - Yerevan 2005
Štampar Medalist 2005 | Short biographical sketch
Laudatio by Aislinn O'Dwyer (University of Liverpool)
Theodor Abelin | XXVI Annual Conference - Caltanissetta 2004
Štampar Medalist 2004 | Short biographical sketch
Laudatio by Stojgniew Jacek Sitko (Jaegiellonian University - Krakow)
Martin McKee | XXV Annual Conference - Granada 2003
Štampar Medalist 2003 | Short biographical sketch
Laudatio by Stipe Oreskovic (University of Zagreb)
Alexander Macara | XXIV Annual Conference - Zagreb 2002
Štampar Medalist 2002 | Short biographical sketch
Laudatio by Jeffrey Levett (National School of Public Health - Athens)
Ilona Kickbush | XXIII Annual Conference - Debrecen 2001
Štampar Medalist 2001 | Short biographical sketch
Laudatio by Andreas Geiger (Hochschule Magdeburg-Stendal)
Charles Mérieux | XXII Annual Conference - Aarhus 2000
Štampar Medalist 2000 | Short biographical sketch
Laudatio by Pascal Chevit (Nationa School of Public Health - Rennes)
Richard Doll | XXI Annual Conference - Madrid 1999
Štampar Medalist 1999 | Short biographical sketch
Laudatio by Richard Madeley (University of Notingham)
Lennart Köhler | XX Annual Conference - Torino 1998
Štampar Medalist 1998 | Short biographical sketch
Laudatio by Arja Rimpelä (University of Tampere)
Ferenc Bojan | XIX Annual Conference - Prague 1997
Štampar Medalist 1997 | Short biographical sketch
Laudatio by Martin McKee (London School of Hygiene and Tropical Medicine)
Michel Manciaux | XVIII Annual Conference - Utrecht 1996
Štampar Medalist 1996 | Short biographical sketch
Laudatio by Lennart Köhler (Nordic School of Public Health)
Halfdan J Mahler | XVII Annual Conference - London 1995
Štampar Medalist 1995 | Short biographical sketch
Laudatio by Evelyne de Leeuw (University of Limburg - Maastricht)
Donald Acheson | XVI Annual Conference - Krakow 1994
Štampar Medalist 1994 | Short biographical sketch
Laudatio by Jeffrey Levett (National School of Public Health - Athens)
Léo Kaprio | XV Annual Conference - Bielefeld 1993
Štampar Medalist 1993 | Short biographical sketch
Laudatio by Jeffrey Levett (National School of Public Health - Athens)
ADDRESS
Aspher Secretariat
UM Brussels Campus
Av de l'ArmÚe / Legerlaan 10
BE-1040 Brussels