 Improving and protecting the public health
by strengthening education and training
of public health professionals
for both practice and research


LOGIN | ASPHER COMMUNITY
ASPHER is the key independent European organisation dedicated to strengthening the role of public health by improving education and training of public health professionals for both practice and research.
ASPHER Climate Action through Public Health Education & Training
ASPHER supports the development of climate-health education and capacity-building for the public health workforce to be key advocates and actors of climate mitigation & adaptation to improve climate change and public health interventions.
ASPHER has convened a Climate-Health Education Working Group to facilitate relevant networking and support for the Climate-Health Agenda. If you wish to participate, please email ASPHER Climate-Health Fellows Tara Chen (tara.chen@aspher.org) and Rana Orhan (rana.orhan@aspher.org).
Activities
ASPHER's Climate and Health Education in Europe Thematic Network (EU Health Policy Platform)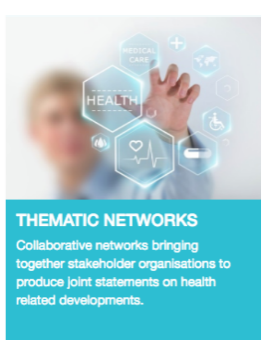 Thematic Networks are temporary networks of stakeholder organisations created in the EU Health Policy Platform. Their purpose is to prepare stakeholder-led and –owned Joint Statements on important EU health issues, summarising the common position of the co-signing organisations.
ASPHER's proposal to lead "Climate Action through public health education and training" was successfully selected among the top three proposals to become the Thematic Networks of 2021. Throughout the year, the thematic network worked to produce a one-voice joint statement of European Stakeholders (with over 80 endorsements). The joint statement has been the first successful attempt to involve the stakeholder community around this topic with the aim at creating synergy with existing policies.
The final version of the Joint Statement "Moving towards the right to 'health for all' by training the public health and wider health workforce on climate change and health" was presented on May 5th, 2022 at the EU Health Policy Platform to the European Commission, DG SANTE, DG CLIMA, and the European Environment Agency.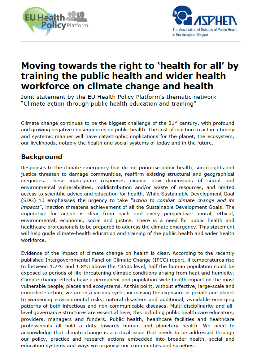 At this time, the thematic network has shifted to an Exchange Network. You can join us at any time to network with others in the network by registering through the EU Health Policy Platform.
2. ASPHER's Climate and Health Competencies for Public Health Professionals in Europe (2021)
Upcoming Events/Presentations/Courses
Additional Resources
Climate-Health Education YouTube Videos (Short Clips)
ADDRESS
Aspher Secretariat
UM Brussels Campus
Av de l'Armée / Legerlaan 10
BE-1040 Brussels