 Improving and protecting the public health
by strengthening education and training
of public health professionals
for both practice and research


LOGIN | ASPHER COMMUNITY
ASPHER is the key independent European organisation dedicated to strengthening the role of public health by improving education and training of public health professionals for both practice and research.
Home
» ASPHER Working Groups » ASPHER Programme for Public Health Competencies
ASPHER Programme for Public Health Competencies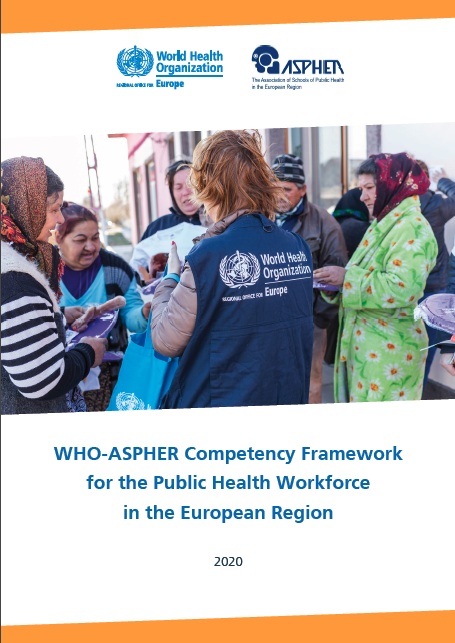 WHO-ASPHER Competency Framework for the Public Health Workforce
Good training is vital in our efforts to educate new generations of public health professionals who will improve and protect the health of the people we serve, and the health of our environment and planet. So, it is essential for us to define the skills and competencies needed for this life saving work. ASPHER is thus immensely proud to announce the publication of the WHO-ASPHER Competency Framework for the Public Health Workforce in the European Region, which is a result of strong collaboration between ASPHER and the WHO Regional Office for Europe Coalition of Partners to Strengthen Public Health Services in the European Region.
The Framework was developed to meet the need of member states to build public health workforce capacity. The Competency Framework can be usefully applied in numerous situations such as: developing measures to strengthen education and performance, assessing existing capacity and capability and identifying training requirements, capacity-building, analysis and monitoring, ensuring appropriate numbers, mix and distribution of staff and skills for public health teams in various contexts and arguing for sustainable investment to support workforce development, planning public health workforce, including recruitment, retention, productivity and skill mix of public health professionals and teams, developing accreditation and credentialing systems, developing job descriptions, interview questions, performance evaluation and quality assurance systems; and in fostering collaboration across disciplinary and organizational boundaries.
The Framework is a crucial document that will inform and guide the teaching, training and research, of all the schools of public health in Europe not just in curriculum, but within the context of the profession as a whole, in the philosophy and values of public health and in codes of conduct. ASPHER is particularly grateful to our Immediate Past President, Professor Kasia Czabanowska for her tireless work on professionalisation and the Competency Framework.
ASPHER's European Core Competences List for the Public Health Professional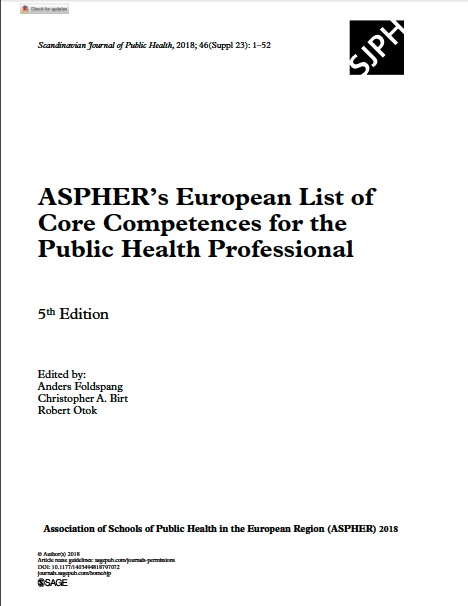 The Framework complements advancements of ASPHER's European Core Competences List for the Public Health Professional, historically led by ASPHER Past President, Professor Anders Foldspang. The List is a useful practical source book providing detailed content for public health teaching and curriculum for our member schools of public health. The two pieces of work are synergistic; both vital for our work in leading high-quality public health training and assuring the values, ethics and development of our profession.
The Framework and the List represent core business of central importance to ASPHER's mission. Both aspects of ASPHER's competencies work will be carried forward over the ASPHER 2025 Strategy period by Executive Board Member, Professor Mary Codd, for which she will truly be standing on the shoulders of giants.
The WHO-ASPHER Competency Framework for Public Health Workforce is a living document and a major resource for schools in Europe and we believe, a reference for public health training globally. We encourage you to use the Framework, share with your professional networks and inform us about your experiences using this tool.
ECDC Core Competencies in Applied Infectious Disease Epidemiology in Europe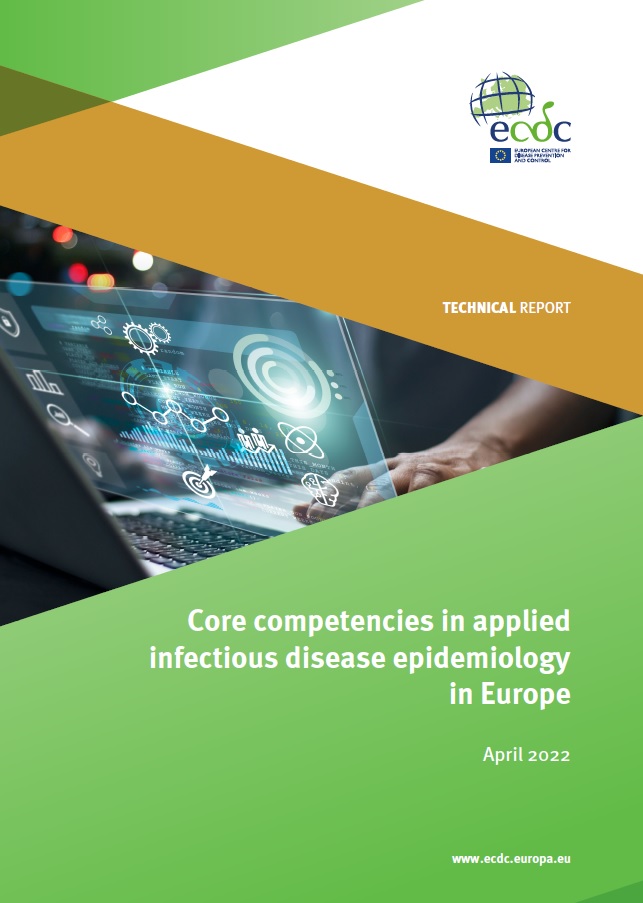 Resulting from ASPHER's project Updating Core Competencies in Applied Infectious Disease Epidemiology (UCCAIDE) for mid-career applied epidemiologists for ECDC, harmonising the competencies used in applied infectious disease epidemiology will facilitate collaboration and enhance the use of a common language among professionals who tackle cross-border health threats in Europe.
The competency framework contains a list of 157 competencies grouped in six subject areas:
Essential methods for applied infectious disease epidemiology
Preparedness, surveillance and response to infectious disease outbreaks
Communication and advocacy
Practice of infectious disease epidemiology
Contextual influences on infectious disease management
Leadership and management
ASPHER Climate and Health Competencies for Public Health Professionals in Europe
Due to the complexity of climate change, it is essential that future generations of public health professionals have the knowledge to be able to work on and address the uncertainties faced currently. Considering the need for Health in All Policies, public health professionals need to engage with various stakeholders in the debate on the intricate pathways of direct and indirect adverse effects of climate change on health. Public health graduates who have had training in climate change and health can also influence educational institutions from within (Krasna et al., 2020) and reduce the risks and impacts of climate change for European citizens' health and well-being, by bringing skills and knowledge to the public health workforce. It would mean that universities can contribute to achieving the Union's 2030 and 2050 goals by including climate and health education in public health curricula.
We recognise that not every public health professional needs to become an expert in climatology and ecology, but we argue that all graduates need to understand the basics, be able to communicate knowledgeably, and form partnerships and alliances in multidisciplinary settings with experts in these areas (Middleton, 2016). Interprofessional, interdisciplinary, and transformational educational activities, which require not only problem-solving skills but also system thinking, change and implementation strategies should be included in modern curricula addressing climate change. These competencies are recommended in the frameworks and competencies lists as proposed by the GCCHE, ASPHER, CAPHIA, and WHO-ASPHER Framework for the Public Health Workforce in the European Region and Krasna et al. (2020) echo that the skills that are required in job postings are in alignment with these competencies. Building on the previous lists of competencies, specifically the GCCHE's Core Climate & Health Competencies for Health Professionals, we propose a set of ASPHER Climate and Health Competencies for Public Health Professionals in the European Region.
Diverse social identities and their importance for public health: A syllabi collection with hands-on material for teaching
Members of minoritised population groups are exposed to higher burdens of morbidity and mortality and face barriers to accessing health care systems and other critical resources to achieve optimal health. Intersectional perspectives that emphasise the dimensions of social power and discrimination are just beginning to emerge in public health research. These perspectives contextualise longstanding patterns of health inequalities but are rarely translated into public health curricula. Concepts like "cultural competence" or "diversity, equity and inclusion" do address the importance of awareness and respect for (cultural) diversity in (patient/client) populations. The research and teaching examples available are largely limited to a USA context, tend to consider specific identities, rather than intersectional characteristics, are not systematically integrated in public health curricula and are usually not rooted in a theoretical approach of teaching. It is imperative that Europe bridges the knowledge-to-teaching gap and begins introducing similar programs, while learning from the limitations of USA efforts. Two steps are needed to strengthen public health educational institutions and improve population health: first, to systematically incorporate an intersectional paradigm into public health curricula; and second, to provide faculty members in public health programs with transformative teaching skills (Namer & Wandschneider, 2021).
ADDRESS
Aspher Secretariat
UM Brussels Campus
Av de l'Armée / Legerlaan 10
BE-1040 Brussels