 Improving and protecting the public health
by strengthening education and training
of public health professionals
for both practice and research


LOGIN | ASPHER COMMUNITY
ASPHER is the key independent European organisation dedicated to strengthening the role of public health by improving education and training of public health professionals for both practice and research.

The member's events calendar is prepared in partnership with
goinginternational.eu
information platform for higher education in the fields of biomedicine, public health international health and humanitarian assistance.
Add your event
Events archive
Members' events
The green track conference: Protecting nature and biodiversity to protect our health ? The Youth Voice| 12 May
When:
12 May 2022
Organiser:
Young European Leadership
Contact:
Marianne.chagnon@younglead.eu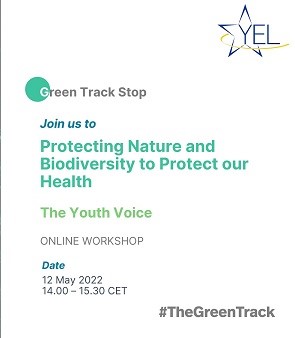 The COVID-9 pandemic highlighted the role of humans on damaging nature and biodiversity. Not only did we see a quick positive impact of the few weeks of lockdown and the slowing of human activities on air quality for instance, but we also discovered that destroying nature can lead to the development of zoonotic diseases – such as COVID, potentially.
Youth is particularly impacted by such issues, because they are inheriting this planet and all damages to it will last for centuries. Situations such as pandemics will also have long-lasting consequences on societies, that young generations will have to pay for
This eventaims at providing information on the concrete impact of climate change on our societies, and what actions can and should be taken through a design thinking workshop. Youth involvement will be central in taking concrete actions, which is why it is important to involve everyone in these discussions.
ASPHER Fellow Tara Chen will speak on Climate and Health competencies for Public Health (14:35 CEST)
Please find the link to the agenda of the event and the registration link.
» See all events
ADDRESS
Aspher Secretariat
UM Brussels Campus
Av de l'Armée / Legerlaan 10
BE-1040 Brussels