 Improving and protecting the public health
by strengthening education and training
of public health professionals
for both practice and research


LOGIN | ASPHER COMMUNITY
ASPHER is the key independent European organisation dedicated to strengthening the role of public health by improving education and training of public health professionals for both practice and research.

The member's events calendar is prepared in partnership with
goinginternational.eu
information platform for higher education in the fields of biomedicine, public health international health and humanitarian assistance.
Add your event
Events archive
Members' events
European Launch of the 2021 Lancet Countdown Report with ASPHER Fellow Rana Orhan
When:
2 Dec 2021
Organiser:
The Lancet
Contact:
https://us02web.zoom.us/webinar/register/WN_R4keSKN6TRqiyiXbm2AA9A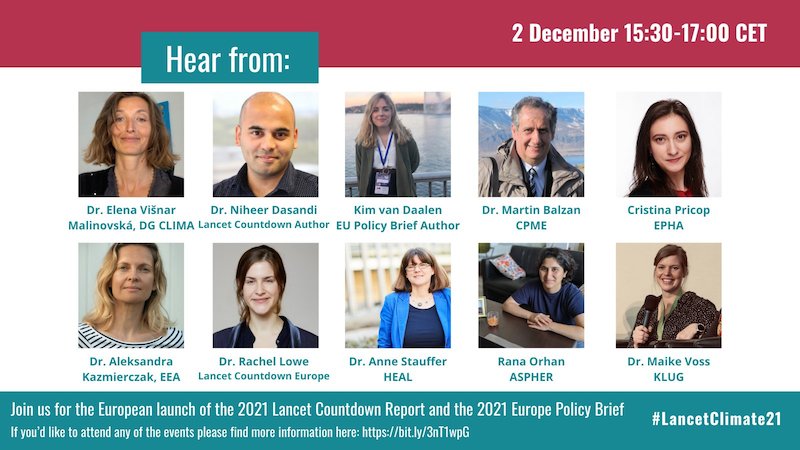 In the context of the climate negotiations in COP26, the 2021 report of the Lancet Countdown discusses the latest evidence on how the climate emergency is undermining the foundations of good health, as well as detailing the health benefits of a rapid and robust response to the climate emergency.
Over the past years the European Union (EU) has increased its climate ambition by – among others – the ratification of the 2015 Paris Agreement and commitment to the second phase of the Kyoto protocol. Most notably, as the third biggest greenhouse gas emitter in the world, the EU has pledged in the European Green Deal to reach net-zero emissions by 2050. By preventing impacts from climate change on public health as well as utilizing the health co-benefits action Europe has the opportunity to safeguard the health of generations to come.
On 2nd December (15:30-17:00 CET), ASPHER Fellow Rana Orhan will join other leading academics and policymakers to contextualise the findings of the 2021 Lancet Countdown report for Europe.
#LancetClimate21
» See all events
ADDRESS
Aspher Secretariat
UM Brussels Campus
Av de l'Armée / Legerlaan 10
BE-1040 Brussels