 Improving and protecting the public health
by strengthening education and training
of public health professionals
for both practice and research


LOGIN | ASPHER COMMUNITY
ASPHER is the key independent European organisation dedicated to strengthening the role of public health by improving education and training of public health professionals for both practice and research.

The member's events calendar is prepared in partnership with
goinginternational.eu
information platform for higher education in the fields of biomedicine, public health international health and humanitarian assistance.
Add your event
Events archive
Members' events
Future Africa and 1 HOPE webinar series. 2 Dec 2020 & 27 Jan 2021
When:
2 Dec 2020 - 27 Jan 2021
Organiser:
George Lueddeke, One Health for One Planet Education Initiative (1HOPE)
Liesel Ebersöhn, Centre for the Study of Resilience (CSR), UP
Contact:
https://forms.gle/7F7RYX5e7jZ4XnjL8
Dear WERA Colleagues and Friends,

The WERA Task Force Global Challenges and Education is sharing an opportunity to participate in a webinar series focused on developing education research capacity which takes into account transdisciplinarity as a lens to global challenges.

The aim of the series is to build collaborative transdisciplinary research capacity of early career and doctoral students through a One Health & Well-Being lens - using the Zoom-digital platform.

Others are welcome to attend the series as the session topics - involving a wide range of expertise drawn from across global regions and organisations (please see flyer, attached) - will provide an excellent opportunity to share and cross-pollinate ideas engaging a wider audience - especially at this time of continuing global challenges and uncertainties.

As detailed in the programme schedule (attached), the series consists of three sessions conducted over a three month period. All sessions - presentations or panel discussions each - begin at 15:00 pm (South African Standard Time [SAST]) and conclude at 19:00 pm (SAST) with comfort breaks in-between.

Webinar Session 2: 2 December 2020
Webinar Session 3: 27 January 2021

Please follow the below link to register.
https://forms.gle/7F7RYX5e7jZ4XnjL8

We look forward to meeting with you on 02 December 2020!
For the 2 December Webinar Zoom link and passcode, click here.
For more information please click here.
To access the Future Africa - 1HOPE Webinar Series Schedule, please click here.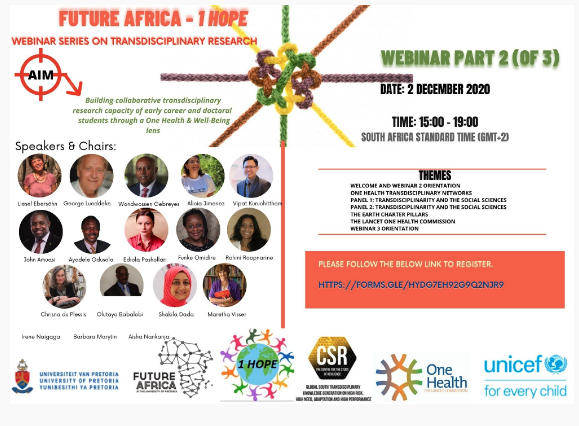 » See all events
ADDRESS
Aspher Secretariat
UM Brussels Campus
Av de l'Armée / Legerlaan 10
BE-1040 Brussels